not-for-profit blogshop aiming to raise RM1,000 for charity by September 2012. All things shown are available, sold things deleted after payment so SCOLL BACK AND LOOK AT OUR OLDER POSTS FOR MORE STEALS/BARGAINS!. Prices are capped at RM20. We operate on a first pay first get basis (though we do our best to reserve things for you). All emails are replied within 24 hours while parcels are usually mailed out within 48.







New Clothes. Rock bottom prices.
What more could you ask for?
This is better than new. Shopping with a green conscience. Your way of recycling.
All the clothes on sale here have never been worn EVER, ie NEW, UNUSED & UNTOUCHED! :)

Rewear This is a not-for-profit blogshop owned by a shopaholic who never gets the chance to wear anything she buys. The thrill of retail therapy is in the act of shopping itself, you see. Help her clear her closet out, she's leaving the country! Click on the archives/older posts to see some more great bargains!

Also, share our site on fb and help us to raise as much money as possible. :)



Like what you see? WAY MORE BARGAINS WILL BE POSTED SOON! Subscribe & be the first to know about them! Updates delivered immediately to your inbox!



Fill up the form below and send it to rewearthis@gmail.com OR text it to
+6011-15632681 ; all orders will be replied within 24 hours.

Name :
Phone Number :
Address :
Item Name :
Item Number :
Delivery Method: (Postage type - we prefer Poslaju!)
Facebook link : if you're kind enough to share Rewear This on your fb page, do show it to us so that we can smother you with appreciation :)


THESE PRICES APPLY TO CLOTHES ONLY. For bags, shoes and books, the price of postage will be emailed to you.

PosLaju,
West Malaysia: RM7.50
East Malaysia: RM9.50
*people buying more than 2 items may be charged more; orders will be weighed and determined upon placement of order

Pos Ekspres, which we do NOT recommend!
RM4, 5 or 6 depending on your order.
Pos Ekspres is not allowed for large orders - they won't fit!

*COD is not available anymore due to transport issues :(

International buyers can pick DHL or PosLaju but all costs vary & are to be borne by them :)

Parcels mailed out within 48 hours. After I've emailed you your tracking number, all responsibility for the arrival of your order is shifted over to the courier.




RM1
RM2
RM3
RM4
RM5
RM5
RM10
RM15
RM20
Tees
Statement Tees
Tops
Dresses
stickers
Office Wear



& we'll link you back ;)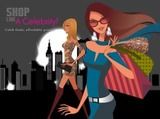 The only review site that teaches you how to shop like a celeb! :)







All items are unused & new unless otherwise stated; usually washed once for hygiene purposes. No negotiations allowed as prices are as low as can be. Payments to be made via online transfer/cash deposit to Maybank/Al Rajhi/Public Bank accounts. PROOF OF TRANSACTION REQUIRED. All sales are FINAL, no refunds (sorry!). If you have changed your mind about an order, just send an email along to rewearthis@gmail.com within 24 hours; I don't bite, promise! Rewear This is NOT responsible for any losses or damages which may occur at the hands of Poslaju or other couriers. Our prices can change, and the price that you should follow is the latest one on the website no matter what you looked at before - we are sorry about this but hope you understand that we can sometimes make mistakes. *First come, first serve. Whoever pays first will get the items first. This is to allow all customers a fair chance at buying. Email all other questions to rewearthis@gmail.com or text 011-156 32681 :)



© All codes/images/content are copyright of RewearThis. No reproduction allowed.